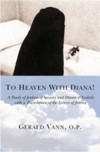 To Heaven With Diana!



by Fr. Gerald Vann, O.P. (1906-1963)

First published in 1960, To Heaven With Diana! is a study and translation of the letters of Dominican friar, Blessed Jordan of Saxony (c. 1190-1237) to Blessed Diana d'Andalo (1200-1236), a cloistered Dominican nun. Vann's masterful introduction provides the background for their extraordinary friendship and correspondence. His translation of Jordan's letters captures the charm and eloquence of this friar who drew thousands into the Order by his preaching and influence. It also shows how Jordan, as friend, brother, and spiritual director, wisely guided Diana and her community, sharing his joys and sorrows in his ministry as second Master of the Order of Preachers, all the while depending on the prayers and support of his "beloved sisters in Christ."

or by writing to:
Sr. Judith Miryam, O.P.
Dominican Nuns
Monastery of Our Lady of the Rosary
543 Springfield Avenue
Summit, NJ 07901-4498
U.S.A.