Houston Dominicans
Sisters welcome new members to the Dominican Family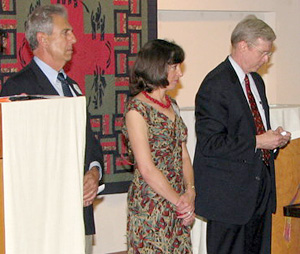 On Saturday, April 30, 2011, during the Eucharistic celebration for the Second Sunday of Easter, 29 women and men were welcomed into the Dominican Family by the Dominican Sisters of Houston. Having completed two years of initial formation learning about St. Dominic and the four pillars, they made a year-long commitment to live the Dominican charism. In making this commitment, each of the new members stated how she/he would live the Dominican charism.
This is the second group to make this commitment. The first group in the Dominican Family became committed Dominicans for one year at the May 2010 Commitment Ceremony. For these 44 Dominicans, the next step was to discern whether to recommit for one, two or three years at the April 30 Commitment Ceremony and Eucharist.
The mission statement for the Dominican Family:
We, members of the Dominican Family, are called to embody the Dominican charism, seek Truth, preach the word of God, and promote the dignity of all persons. As part of the global Dominican Family, we commit ourselves to lives rooted in prayer, study, community and peace. Through our gifts of diversity, we strive to grow together as co-creators of justice and peace.
Each family member is given a card on which she/he writes how she/he will embody the mission statement during the coming year. These cards are then placed in a basket as part of the ceremony. What being a member of the Dominican Family is explained beautifully by one of the women who made this commitment last year:
"The Dominican Family is made up of vowed religious and laity who make a commitment to live life through a Dominican spirit, trying to live intentionally as Dominicans. Preaching the 'Good News' through one's work, art and life is the essence of the Dominican Family as we attempt to live lives rooted in community, prayer, study and preaching. And, by the way, preaching does not necessarily involve speaking—it's the way you live your life."
For more information about the Dominican Sisters of Houston, visit their web site